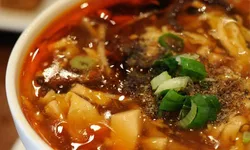 This is a great restaurant-esque soup that you can pull together in a jiffy. I like to make it from post-Thanksgiving or Christmas turkey broth. (Just boil the carcass in filtered water for several hours and pick off the turkey meat to go back in the broth). In this picture, the mushrooms and bamboo shoots are left out.
Ingredients
4 medium-size dried mushrooms

1 tablespoon dry sherry

4 cups chicken broth (or turkey broth)

1/2 pound chicken breasts (or leftover turkey), skinned, boned, cut in matchstick pieces

1/2 cup sliced bamboo shoots, cut in matchstick pieces

2 tablespoons whiet wine vinegar

1 tablespoon Tamari sauce

2 tablespoon arrowroot powder

1/4 cup water

1/2 to 3/4 teaspoon sesame oil

1 organic egg lightly beaten

2 whole green onions cut in 1 inch diagonal slices
Instructions
Cover mushrooms with warm water, let stand for 30 minutes, then drain.

Cut off and discard stems; squeeze mushrooms dry and thinly slice.

In a 2-quart pan, heat chicken broth to boiling.

Add sherry, mushrooms, chicken, and bamboo shoots.

Stir, then reduce heat; cover and simmer 5 minutes.

Add wine vinegar, and tamari sauce; heat, uncovered, for 1 minute.

Blend arrowroot powder and water. Add to soup and cook, stirring, until slightly thickened.

Turn off heat.

Add pepper and sesame oil. Stirring continuously, slowly pour egg into soup.

Sprinkle with onion and salt to taste.
Business Hours
Monday:
9:00 AM-11:30 AM & 3:30 PM-6:00 PM
Tuesday:
3:30 PM-7:00 PM
Wednesday:
8:00 AM-11:00 AM & 3:30 PM-6:00 PM
Thursday:
3:30 PM-7:00 PM
Friday:
9:00 AM-11:30 AM & 3:30 PM-5:00 PM
Address:

Telephone:

908-878-0102